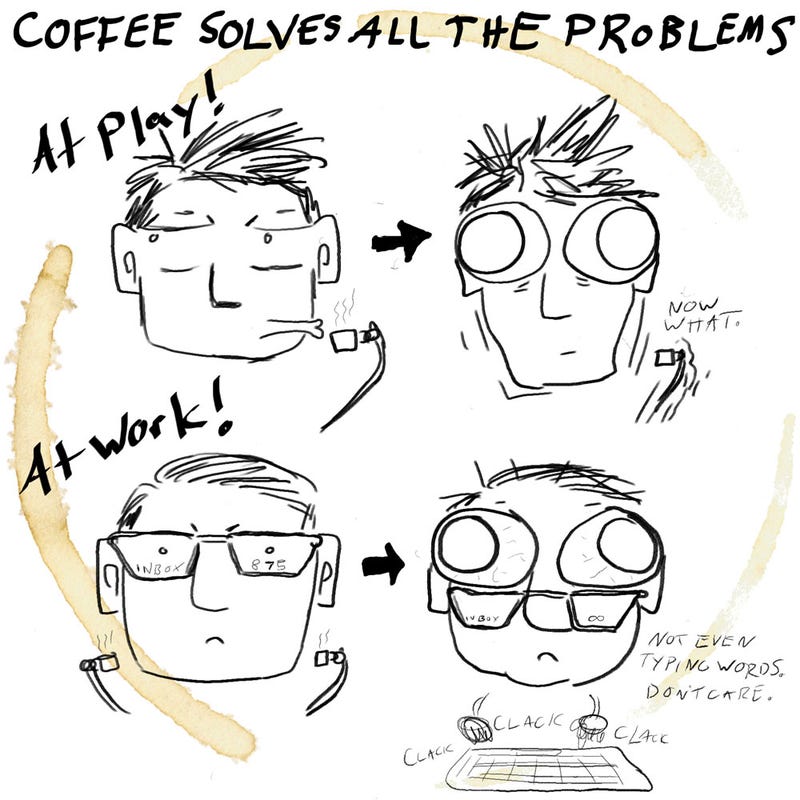 This feels self-indulgent. And fun! Hi I'm Andy. I've worked for a small television station, an internet startup or two, studied literature and film off and on, and am now working to help the Lifehacker team Do Great Things.
Location:
New York
Current gig:
Editorial Fellow at Lifehacker
Current mobile device:
iPhone 4 running iOS 7 beta
Current computer:
Sony Vaio VGN-FW, a big 16 inch laptop with a Blu-ray drive, running Windows 7. It's like a big plastic tank. And let me tell you, if you're a film and television aficionado, streaming a Netflix movie is nice, but a 50gb 1080p Blu-ray video is nicer.
One word that best describes how you work:
Scattershot. I don't mean mean haphazard; sometimes you need to use a leaf blower instead of a blow dart when performing surgery on the forest instead of the trees, if you know what I mean.
What apps/software/tools can't you live without?
I use Gmail and Windows 7's Sticky Notes widget for everything. I hate keeping stuff on my desktop so I am motivated to fulfill the Sticky Note's purpose so that I can unstick it and send it back to whence it came. I also love real-world Post-It notes but rarely have an excuse to use them for non-doodle purposes.
What's your workspace like?
For Lifehacker I usually work out of the Gawker office in Manhattan on my laptop, which is a dimly lit, library-like setting, dense with high-aiming people who quietly type and giggle all day. Outside of that, I am very much a cafe hopper. The ambient noise does something for me. In my off hours I often go to quiet bars to read and write, but nothing really gets done there.
What's your best time-saving trick?
I walk fast. An architectural historian at Oxford complimented my walking pace when we continually found ourselves leading the tour. How's that for a pretentious aside.
What's your favorite to-do list manager?
Primarily I use colored labels in Gmail to mark stuff I need to do, but I also use Evernote to save silly things across different platforms. And a Spacepen (just in case gravity disappears) to write on the back of my hand for something I really need to remember.
Besides your phone and computer, what gadget can't you live without?
A real computer mouse. I cannot believe that there are people who prefer trackpads full time. Maybe they have rodent phobias. Maybe they just hate accuracy. Oh, an Aeropress has been my constant companion for many years (but honestly I'm not too concerned about precise, scientific coffee brewing).
What everyday thing are you better at than anyone else?
I am not good at any everyday thing. But I'll tell you two bits: the Lifehacker team jokes about my ability to quickly find topical animated gifs for any occasion. At home, my roommates consider me the default fact checker and general reference guide for any question. Resident Expert.
What are you currently reading?
I recently started Brideshead Revisited, am halfway through Churchill's second WWII history book (Their Finest Hour), and also started a book that Woody Allen mentioned was one of his favorites,The Posthumous Memoirs of Bras Cubas. Jumping between several books is always a bad idea and I've lost my place in all three so hey what's on Netflix.
What do you listen to while you work?
I have a few indispensables: the Charlie Brown Christmas soundtrack (for the 6 months of the year that comprise my Christmas season), Neutral Milk Hotel's Aeroplane album, the occasional Weezer, and I find Trent Reznor's soundtrack to The Social Network is good for work. However, 80 percent of the time I don't listen to anything while working.
Are you more of an introvert or an extrovert?
Very introverted, but apparently I like typing about myself. I also love getting attention with humor. Maybe because if you make someone laugh, you have control over the situation.
What's your sleep routine like?
Around midnight to 8am, pretty much always, plus or minus an hour on either end. I almost never compromise my sleep.
What's the best advice you've ever received?
Work hard and be kind and amazing things will happen. That wasn't directed at me; that's what Conan O'Brien said on his last Tonight show.
Is there anything else you'd like to add?
Yes—who I would want to see answer these questions. Walt Disney and Woody Allen. (The melding of those two gives you a quick taste of my personality: neurotically optimistic in a harsh and indifferent world... of magic and wonder!)