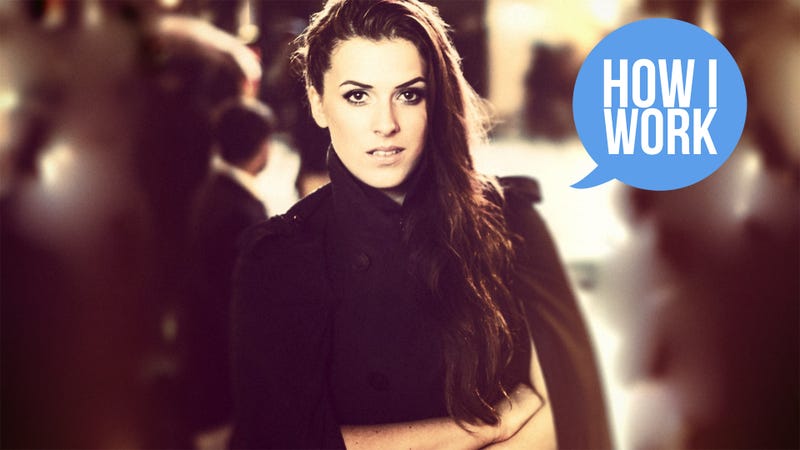 Five years ago to the day, Poppy Disney launched WIWT, or What I Wore Today, for people who are interested in fashion to share images of their outfits and links to where interested parties could find the respective outfits for purchase. It started as a personal blog and grew to become an online community with its own app—probably the most popular of its kind in the UK.
Poppy also blogs, is a contributing writer to various sites where she discusses fashion, among other things, and is generally a charming wellspring of wit. She says she's "the opposite of a 'think smart lifehacky' person," but I disagree.
She's also a friend of mine (if online only!); last year I asked Poppy to contribute to the How I Work series because it seemed as though my planned interviewee wouldn't make their deadline and I needed something. But the deadline was met and I've been saving Poppy's interview for a rainy day, albeit knowing that Lifehacker readers are probably not the most fashion-focused lot. With that in mind, I'd rather feature this here than let it sit at the bottom of my inbox, waiting for an opportune moment. Here's Poppy:
Location: London, UK
Current Gig: Founder of outfit sharing platform What I Wore Today (WIWT.com and WIWT apps), consultant at fashion discovery start-up Grabble.co.uk and freelance writer at MSN.co.uk and beyond. [Edit: Some of this info is out of date.]
One word that best describes how you work: Relentlessly.
Current mobile device: iPhone 4, still running iOS 6. That's bad, isn't it?
Current computer: Some unspeakably hefty ASUS thing. It works wonderfully well but lugging it about will be the death of me. I broke my skinny Acer Ultrabook whilst reporting at a festival two summers ago and never got around to getting a similarly thin replacement.
What apps, software, or tools can't you live without?
I always feel like founders want to give smart-arse answers at this point and recommend obscure apps that nobody actually uses. Let's cut to the chase, Twitter is still the app I can't live without. It's where I consume, share, relax and learn—no other app ticks as many boxes for me as Twitter. My life would genuinely be much harder without WhatsApp; it has changed how I communicate. I am in much more regular communication with friends and family because of it, but it's also an essential work tool for me. I'm only in the Grabble office one day a week but we have a team WhatsApp group where we chat all day every day. It's the perfect solution for keeping everyone up to speed. Hailo is another favourite, I can hail black cabs and pay with my business account from my phone—it's simple and it WORKS. I don't get the Uber hype, but that's probably because I think black cabs are the greatest thing about London. I'm a big MyFitnessPal fan too, I track calories even though I am usually ashamed of what I'm inputting. I'd rather not know that my dinner is going to be 984 calories, but there you go. I know it's not trendy to be a fan of Microsoft Office, but I bloody love Paint and Notepad—too many things have too many functions these days, there's something rather lovely about stripping back everything in Notepad.